The Australia Day Conversation Gets a Push from Local Governments Around the Nation
There was an interesting and unexpected development in the discussion around the date of Australia Day today. The often conservative Australia Local Government Association National Conference narrowly voted to support looking at changing the date.
It is good to see that this conversation is continuing around the nation. There is a long way to go before there is wider change but from little and local things, big national things grow.
Here is how the Guardian reported it:
https://www.theguardian.com/australia-news/2017/jun/21/local-councils-across-country-push-for-australia-day-date-change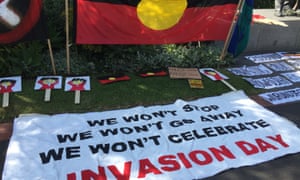 Representatives from local councils across Australia have backed a plan to come up with ideas on ways to lobby the commonwealth to switch Australia Day from 26 January, a date that marks the arrival of the first fleet from England.
The Australian Local Government Association said its board would consider what action to take at a meeting in July.
"The ALGA board noted the level of debate and the closeness of the result of the debate and will take these matters into consideration when determining a course of action," the association said in a statement.
In a close 64-62 vote on Tuesday, council representatives at the annual National General Assembly of the ALGA in Canberra voted to back a motion by Hobart city council for councils to consider efforts they could take to lobby the government for a date change.
The vote came ahead of a planned address by the Australia Day Council chairman, Ben Roberts-Smith, to delegates on the final day of the assembly on Wednesday.
Hobart city council has been at the forefront of growing calls for Australia Day to be changed from 26 January, a date many Indigenous people regard as "Invasion Day".
Hobart's councillors in April voted in favour of lobbying the federal government to find a new date and said they would consult with the local Aboriginal community to find an alternative date.
Across the country in Perth, the City of Fremantle moved some of its Australia Day events to 28 January this year, citing cultural sensitivities and calls from local Aboriginal elders that 26 January was not a day to celebrate.
However the growing calls for change could face stiff opposition by federal politicians.
The Greens senator Rachel Siewert failed in her bid in February to get the Senate to support a date change, with Liberal, Labor and crossbench senators voting against a motion acknowledging 26 January as a day of mourning for many Indigenous people as it represented the start of colonisation.
Thousands of Indigenous Australians and their supporters marked Australia Day this year by marching in protests in major cities, calling for the date to be changed.
The prime minister, Malcolm Turnbull, has said that while everyone is entitled to debate the date of Australia Day, the government does not support a change.